Vanya loved, enjoyed, savored so many things in life.
She loved her friends, loved psychology, loved art, loved masks, loved learning, loved writing, loved co-counseling, loved living in Hell's Kitchen, loved her brindled pit bull mix, Becky, her red setter, acting, sewing, feminism, talking, giving, cooking, shopping at discount stores, intelligent, gentle movies like Truly Madly Deeply, Bill Moyers.
She really loved Joseph Campbell's teachings on mythology. She loved his wife, Jean, who she knew.
Once she said that it was incredible to have the world's greatest thinkers, innovators, politicans, scientists right in her living room, like her own guests, any night of the week when Charlie Rose came on TV.
She loved helping her neighbors, especially the ones who did not speak English, were marginalised by that. She loved fighting for justice. She loved transforming garbage found on the street into works of art, into furniture, taking what was discarded and making it, ingeniously, into something marvelous. She loved her independence. She loved walking at all hours of the night, all over NYC. She loved her apartment and decorating it with happy colors, painting it herself in her late 70's, putting up wallpaper herself, plastering herself, redoing wiring herself. Vanya loved the company of interesting men and was loved by them too. When she was 70 she had a handsome, smart Russian 35 year old boyfriend, who adored her. She loved sex. She loved going to restaurants, laughing, twinkling, being amused.
She loved impressionist paintings, Monet, Renoir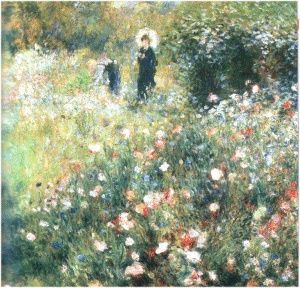 Vanya loved the color teal, turquoise and its aqua variations, all which went beautifully with her amazingly blue eyes.
She loved silver rings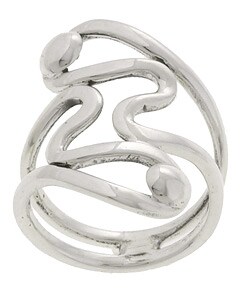 turquoise necklaces
She loved to wear long scarves
She loved to do her own style of stretching exercises every day for 40 minutes, stretching like a cat.
I found out recently that when she died she gave her body to science,
to the
NYU School of Medicine
.
That is such a classically Vanya thing to do.
I so admire her for doing that, thank her in my heart for her generosity.
At her birthday dinners, she loved to pretend she was a cat and act as if she were
cleaning her face with her paws
.